Yep, that's right. I'd like to say it's always been the plan, but back in December my husband and I decided it was probably a lot less chaotic to send our oldest to brick and mortar traditional kindergarten. So we enrolled her in Pre-K in January, and she did great for 8 weeks! Then COVID shut everything down. And well, now here we are.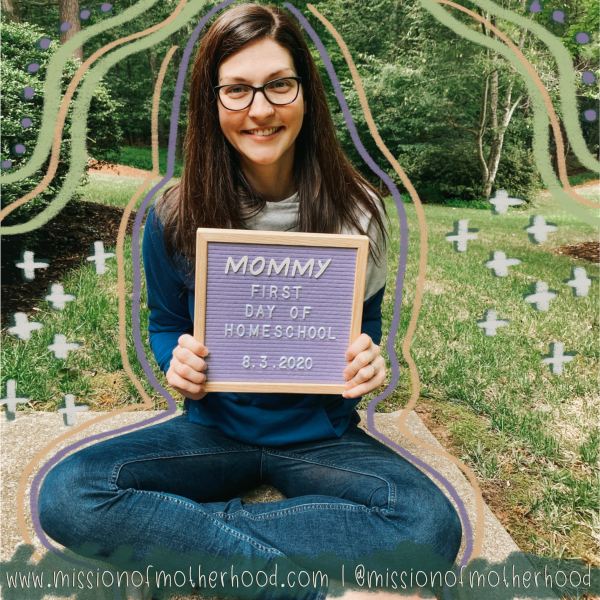 I'll back up just a little. I went to college for teaching; I actually have a Bachelor of Science in Elementary Education. My teaching certificates include K-6 and ESL, so this isn't totally out of left field. (I'm not saying you can't be a homeschooler without a teaching degree, I'm just saying for me it was kind of always a means to an end.)
When we learned we were pregnant with our third around this time last year, I started wondering if homeschooling was really something I could muster. I tend to do that thing where things have to be perfect, and if you know me in real life then you know patience is a fruit of the Spirit and does not come naturally to me. Pregnant, three kids, homeschool with a newborn and toddler? Yeah, that started to sound like a really hard sell.
At Christmastime, my husband convinced me that our life was crazy enough and we did not need to willingly take on more crazy, so we said goodbye to those homeschooling dreams–knowing, of course that nothing is set in stone and God can always change things. Enter COVID.
It was my husband who actually put homeschooling back on the table, and now here we are. I resurrected what was left of my old teaching supplies from the attic, got real active on Pinterest, and reactivated my teacherspayteachers.com account. I rearranged the dining room, painted some furniture, and made a photoshop plan for the rest of the space (see below: don't you want to email my husband and tell him that mural is so fetch?).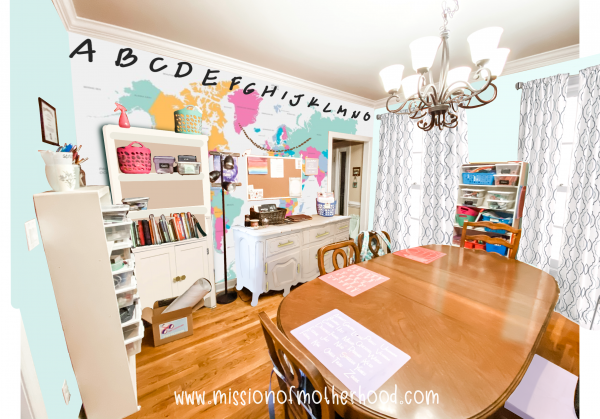 Remember learning about one-room schoolhouses? Well, I'm tagging us "the one house schoolroom," because it's just our family in this room. I registered for a name: Morningstar Academy, and we are good. to. go.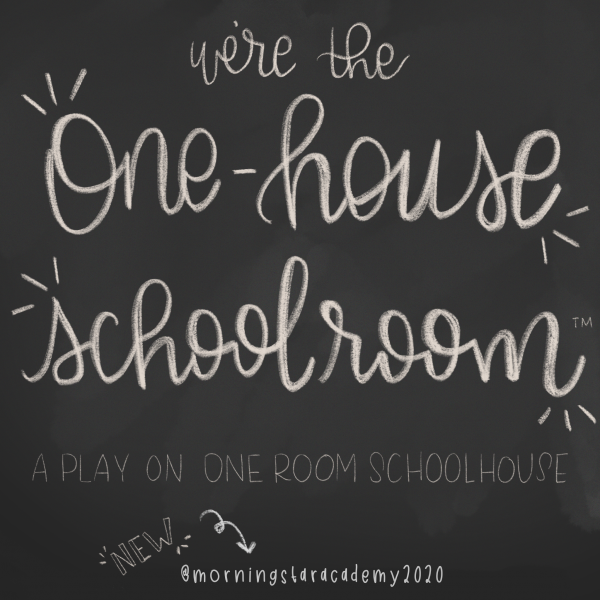 Monday was our first day, and we all survived. Praise be. We might've had a few toddler tears, a few extra shots of espresso, a few popsicles, and ended the day with ABCmouse.com, but you know what—the first day is always the hardest, so we're gonna call that a net positive.
I have already gotten a lot of questions about materials and resources, so here's what I've read or what I'm using and where you can find it. Some of the links below are affiliate links, which are no additional cost to you but help earn my blog a few pennies of commission on each completed Amazon purchase. View my disclosures page for more information.
Please take all of this with a grain of salt: we're on our first week at the time of this writing. Even though I used to be a classroom teacher, I literally have no frame of homeschooling reference for this! I can tell you with 100% confidence that I am not 100% confident, and that we will be changing as we go. However, that's one of the many beauties of homeschooling: the flexibility to go at different paces and switch it up if need be. A reminder: because we're a religious school (an option that I checked upon registering), some of the curricula below are Bible or theology. Obviously, this won't apply to everyone.
Getting ready and feeling like I had a place to start for the first month was crucial for me not feeling overwhelmed. I don't want to back myself into a corner I can't get out of, but I don't want to have to make each day/week up as I go, either. No one likes a stressed-out, fly-by-the-seat-of-her-ill-fitting-pants teacher, am I right?
Books: (I'm definitely going to be updating this list, so check back)
Educating the Whole-Hearted Child (love me some Sally Clarkson)
Homeschool Bravely
The Unhurried Homeschooler (if you have a long list of other books to read, I'd skip this one. If you're overwhelmed at where to start, try one of the next two. This one was indeed mercifully short but rather underwhelming where others got me excited.)
Teaching from Rest (read in 2018, on my list again—so good)
The Brave Learner (best one so far)
For the Children's Sake (this was a gift from a Charlotte Mason enthusiast)
Comprehensive Curriculum of Basic Skills (they also sell these at BJs/Costco/Sam's—couldn't decide if I should put it here or in curricula)
To Be Read Book List:
Mission of Motherhood (go figure, same name as my blog!)
Call of the Wild and Free
The Read Aloud Family
Idea Lists & Vision Boards:
Pinterest can be a helpful tool or an endless rabbit hole–maybe both. In any case, here's what I pinned as helpful inspiration on my Homeschool Joy and Teaching Pinterest boards. I also have a public Amazon idea list, Teach Them Well, which is kind of like another vision board of stuff I love or would love to have for my schoolroom. It's not a true wishlist, storefront, or affiliate link, just a public list, so enjoy!
Curricula & Materials:
Relaxed Homeschool Curriculum
Keeping the Kiddos Busy Freebies
TeachersPayTeachers.com
DollarTree — there is a whole Teacher's Corner section that has activity and work books by age, and tons of supplies. I went a little crazy and bought tons of clear bins with lids and a ton more different size/color bins and baskets for organizing manipulatives by subject or activity.
Kids Read Truth Bible Wall Cards
Tiny Theologians
Planning Playtime Preschool Rainbow
Learning Resources Math Manipulatives
What's Next?
Our current content schedule has only 1-2h day max of instructional time. This is pretty realistic for kindergarten, especially at home. There's no large group activities, group bathroom breaks, classroom management, so that cuts out a lot of that time. It works for my 5 year old, but my 3 year old is the hardest part of this right now. The baby is 4 mos and on a decent (lol, today) nap schedule. Three year olds love to be involved, and the 5 year old has major FOMO (her words, ha!) so trying to get them both to do the same thing that is age appropriate for both is challenging–we'll get there, but it's a hurdle right now for sure.
The Relaxed Homeschool kindergarten curriculum is organized by week and is 8 months long, so that's the skeleton I'm using. I printed months 1 and 2, about 250 pages each (double-sided on a laser printer) just so I had it handy as we are getting our feet wet and figuring out our rhythm. If we like it, we'll keep printing. If we don't like it, I've got time to figure something else out without a gap. How's that for a plan, eh?!
What are your school plans for the fall — in person, distance learning, homeschooling, or something else? Leave a comment or recommendation, I'll take all the tips and advice I can get!