The mothers ministry at my church began back in 2016 when my oldest wasn't yet a year old, and we're now almost halfway into our 3rd year!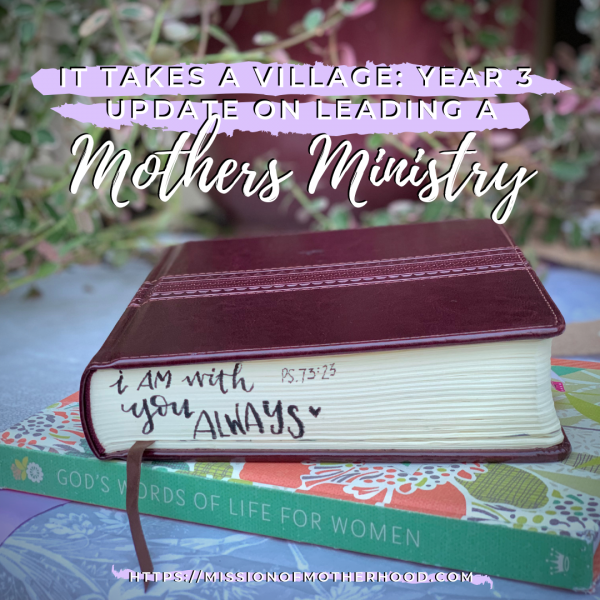 I previously wrote about starting a mothers ministry at my church here, and since then I also created a page to compile all the resources I'd been sharing on Instagram that proved to be encouraging to moms/leaders or helpful in planning some content. You can check that page out here.
Now that it's been a well over a year since that first post on starting a mothers ministry (which was then a year into itself), I thought I'd fill you in on what we've been up to, what has been helpful, and what challenges we still face. At the end, please feel free to comment if you have anything to add, or have any questions. This is a safe place and I appreciate and welcome the input!
Meeting Space
Our church recently moved to a new campus, with newly renovated buildings and it feels like a fresh start. It's been a long time coming, and it was not always an easy road, but it's been a fruitful journey. Having this new space, customized for our needs (vs borrowed space in a movie theater or middle school), has been amazing for our meetings. We're able to have the children in a room set up for them, with toys and chairs and snacks. This completely eliminates the need for me to set up and tear down so I'm able to get more out of our time together now that I'm not spending 30 mins on either end!
Childcare
I met with our executive pastor last fall (2018) and requested a budget, making us a bit more official. This was game changing, because not only am I not fronting the cost of coffee, fliers, etc, but part of our budget is also childcare. That has also helped with attendance, because now cost is no longer a barrier for moms! One of my connections at church put me in contact with two older ladies who work as childcare providers for one of the homeschooling networks in our area. Since they are available every other Friday during the school year, this was a literal answer to prayer and such a blessing to our ministry. These ladies are kind, love the kids, and treat this as a job: they are prompt, they communicate schedule changes weeks or months in advance so we can plan accordingly, they bring activities, and they help clean up. And, because they are the same two faces each time, they bring consistency and familiarity which helps the moms and the kids in their care feel comfortable and welcome. Most weeks, our childcare needs are kids 1-5 (younger babies are not required to stay with moms, but that's how it's worked out), unless the school age children are tracked out (if you're not from our area, most public elementary schools in our district operate on a year-round calendar, so they're in session for 9 weeks at a time and tracked out for 3, on a multi-track schedule year round). Our meetings are only 90 minutes, and right before lunch, so while it's insanely helpful for us, it's not a huge commitment to them. So far I'm loving this arrangement, and I'm praying it continues.
Ministry Goals
✔️Mentoring relationships & Spiritual growth for each of the mothers. Blessed friendships have absolutely come from this ministry and I am so grateful. I am continuing to pray for more mentors, more spiritual growth, and I'm confident the Lord will answer this prayer.
✔️ Gospel-centered parenting. This year we are going through the Risen Motherhood book. It's 19 short chapters bringing gospel hope to the everyday moments, and it's beautiful. There are discussion questions at the end of each chapter which are relevant even if some moms haven't been able to read the chapter. Once we even did a round-robin reading of the chapter aloud and it only took 15 minutes! If you haven't read it, I highly recommend it. My prayer is that this will guide us toward gospel-focused parenting for the things that bog us down in the daily grind.
✔️ Fellowship outside of our regular Friday meetings. This is a challenging one, but I'm keeping it as one of my goals!
✔️ Special events and speakers. Again, this is a challenge with scheduling and budgets, but there's so much out there and I haven't lost faith! Maybe this can be our 5-year goal: celebrate with a speaker or something! 
That's where we're at so far. This update has been a long time coming, but I hope you enjoyed. Let me know what I might've missed in the comments!