Growing up (without internet and smartphones!) my mom always made us write thank you notes to friends and family for gifts or an act of kindness, no matter the occasion. Nowadays, it seems a handwritten thank you note is something of a dying art! It's a shame too, because I know I'm not the only one who appreciates them.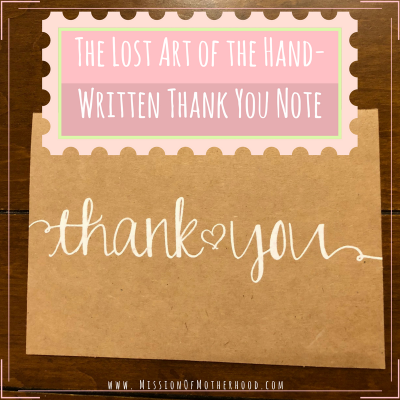 Just this past week I got 4 unique thank you notes in the mail. Of course, my close friends and family know by now how much I appreciate this small gesture, but those close friends and family weren't the only ones who sent the notes!
Writing someone a thank you note is a very simple task. It costs hardly anything, and can take less than 5 minutes. More, of course, if you like. But this seemingly old-fashioned way to show someone a bit of gratitude is a welcome change in the midst of a tense and depressing world. It's also a fun thing to receive in the mail among tax documents, bills, and junk mail.
Don't be discouraged! It can feel like just another "thing to do" in an already busy day, but I promise it's an easy habit to get into, and it will not set you back much at all.
What
Thank you notes don't have to be big, fancy, or expensive. Sometimes simple is best. You can buy them at the dollar store, the dollar spot at Target, online from various vendors, Michael's, Jo-Ann, you name it. Most grocery stores have them in the card aisle. They can be individuals, or part of a pack. Handmade, or store bought. Plain, or fancy. You can find some old card stock and cut/fold to make a card. It's truly the thought that counts on this one! If you're lucky, you can even drop it off or give it in person and save yourself the cost of a stamp!
When
The beauty of a thank you note, particularly a handwritten one, is they don't need to be in response to a physical gift item. You can send anyone a thank you note for anything. One of my favorite thank you notes ever was from a friend who mailed me a funny card just thanking me for being her friend during a rough patch of life. It was out of the blue, short and sweet, and simple. Yet I genuinely appreciated that she took the time to write and send it to me. Any time you think about someone "I appreciate them," send them a note!
Who
Everyone likes to hear thank you and feel appreciated! But you should always start with someone who has given you a gift or provided a service to you. Better late than never, so don't let timing get you hung up. Christmas, birthdays, weddings, showers, holidays, graduations, promotions, retirements, births, adoptions, deaths are all occasions when someone may send a gift requiring a simple thank you note of acknowledgement.
Years ago my husband and I took off work and traveled out of town for several weddings. There's one in particular we remember never receiving a thank you note for. It wasn't just the gift we could've assumed they never received, but the fact that we had gone out of our way to attend that was never acknowledged.
How
This is the meat and potatoes, and the part that gets everyone hung up. But you see, it doesn't have to take very long at all. I remember as a child when I wasn't sure what to write in a thank you note, my mom always gave me these simple tips:
Acknowledge the person : Dear Ashley,
Acknowledge the gift or effort (if it's money, don't mention the amount) : Thank you for the gift card to Chick Fil A.
Say one thing you like about it and/or how you plan to use it : This is one of my favorite places to eat; I'm flattered that you know me so well! I can't wait to take the kids there for lunch when the weather improves.
Thank them for their kindness : You are so sweet to think of me. Thank you again.
End : See you soon! Love, Caitlin
You don't have to be fancy, you don't even have to say as much as I did above. It just has to be genuine! Writing thank you notes is something we can pass on to our kids. Right now, I or my husband write them for our kids. I let my almost three year old can color/scribble on the card or envelope. Sometimes I will ask her why she likes something and write down what she says if it's relevant to the gift.
When it comes to gifts, in the age of wishlists, sometimes it feels weird to write a thank you note for something we've asked for. However, it's a good opportunity to let the buyer know we appreciate when that gift was received AND it lets them know the gift was ACTUALLY received. In the hustle and bustle of the holidays a thank you note was a really nice and personal way to find out why someone requested a particular item, and it made me feel good about buying it for them.
If nothing else…
If you do nothing else with regard to handwriting and mailing a thank you note, please at least acknowledge the gift you received and thank the person who sent it! I'm always partial to snail mail because I think it's more personal, but there are definitely times when a physical post isn't feasible. In those cases, a call/text/email "thank you for the ____," and some details will still be appreciated!
How about you? Thank you notes — a dying art, or something worth keeping around? Should we modify our expectations to accommodate the digital world we live in? Comment below!