To homeschool or not to homeschool? That was the question. Just one short (or long, depending on who you ask) year ago, I announced I was pursuing a long-held dream of homeschooling. #thankspandemic! A lot has transpired since, and we're all overdue for a more in-depth update on our school situation.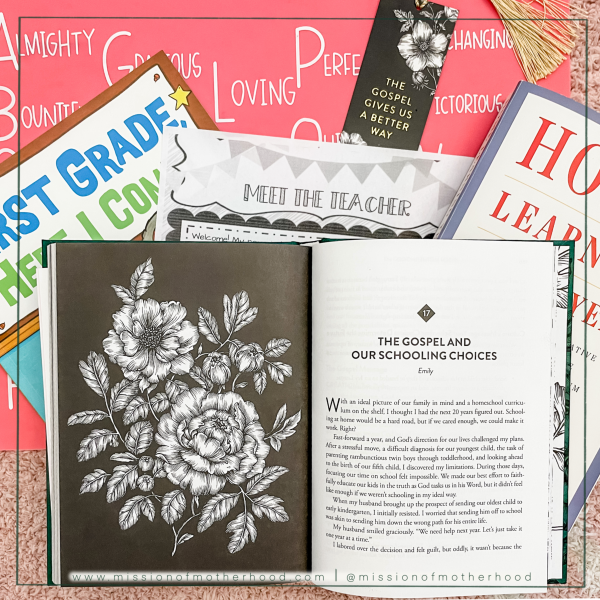 The driving factor for our decision to homeschool Claire for kindergarten was the uncertainty of what the 2020-21 school year would look like due to covid. No vaccines were yet in sight, and virtual schooling was on the horizon; as a former classroom teacher myself, it was clear this was not what we wanted for her first year of formal schooling. Please, let me be very clear: I recognize that to be able to deliberate our options demonstrates our privilege, and I never want to take that lightly. Whether because of work or finances or some other factor, I realize that not everyone has the ability to debate whether or not (or where!) to send their children to school.
Over the last year, we also learned our youngest has some developmental delays, and this past January she began regular therapies 3 times per week. Suddenly my schedule (instead of just homeschooling and Regular Momming™) became full of coordinating exercises and stretches, trying to coordinate childcare, and scheduling tests and appointments around my husband's (thankfully!) work from home job. Additionally, after some consultations with a behavioral specialist, we learned our smart-as-a-whip deep-feeling Claire Bear was also struggling with ADHD, which further complicated things. A blessing of the pandemic year, once again, was the flexibility that homeschooling afforded because it allowed us to work in schooling around other things, or take lessons with us to waiting rooms, Grandma's house, etc.
We were able to identify, diagnose, and begin behavioral therapy early, so by the end of kindergarten homeschooling we had identified and deployed some very effective coping strategies for Claire to finish strong. I'm thankful, so very thankful, for the time of extended togetherness to exercise our family's flexibility and resilience this past year. Once the adults in our family and close circle were all fully vaccinated and we could resume some semblance of normalcy in widening our bubble, we began to entertain the possibility of either continuing to homeschool or sending Claire to the elementary school down the road. The district had reopened for in-person school in March of 2021, and even though teachers were assumed fully vaccinated, all adults and students in the building/buses would be required to wear masks 100% of the time. We began to feel more comfortable that perhaps this would be a good option for our family, and Claire could continue to get the accommodations we'd learned were effective for her ADHD from school.
The hard part is that deep down, I still really want to continue homeschooling. It was something that had always felt like a dream for me, whether I did it for just primary school or longer, and thankfully I learned over the last year how to overcome some of the hurdles of managing teaching with multiple children around, a husband who works full time, and navigating a younger child with specialized needs. My husband and I both went to public school from K-12, so we also felt like there was a communal benefit to being in the school that is in our neighborhood which is obviously something I am not able to offer her at home. In an ideal non-covid world, I would have joined a homeschool community or done more field trip-type excursions or groups, but in the throes of the pandemic I just didn't have the bandwidth to entertain any of that.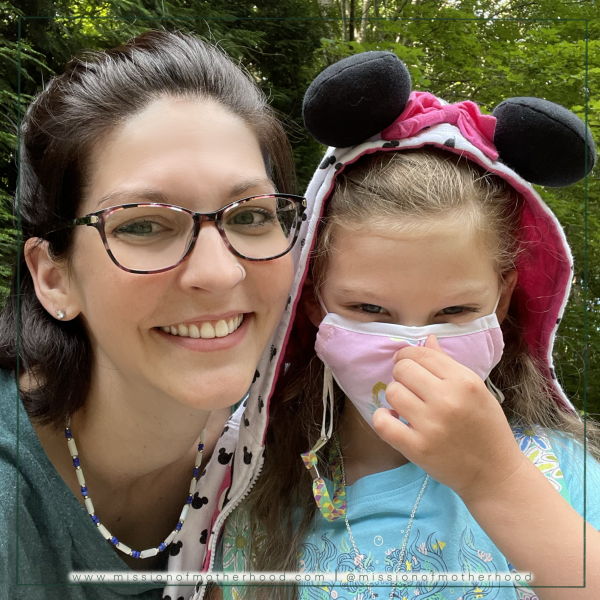 Jason was much more on board with sending Claire to public school for first grade than I was, full stop. Us being on the same page is important to me, and I felt like because I was very much on the fence, I'd give it a shot. There were some logistics to work out, but Claire did well on her assessments for placement in May, and we were enrolled. PLOT TWIST: here in NC, our district has a year-round school calendar, which means that our school year begins in July. There are 4 "tracks" which overlap so that only 75% of the students enrolled are present in the building at one time. Each track has 9 weeks on and 3 weeks off, and by the end of the year each track has the same amount of instructional hours. This calendar allows for reduced class sizes even when the school is "over capacity" in its enrollment, but also prevents teacher burnout and improves student performance year to year. It's great for family vacations because you can go for longer trips during track-out breaks, but it sure rocks your world when your kiddo starts taking the bus in the dead of summer! (Next time you see the back to school aisles at Target loaded up by the end of June, think of us! We'll be sitting back and relaxing during track-out the month of September though, so it evens out).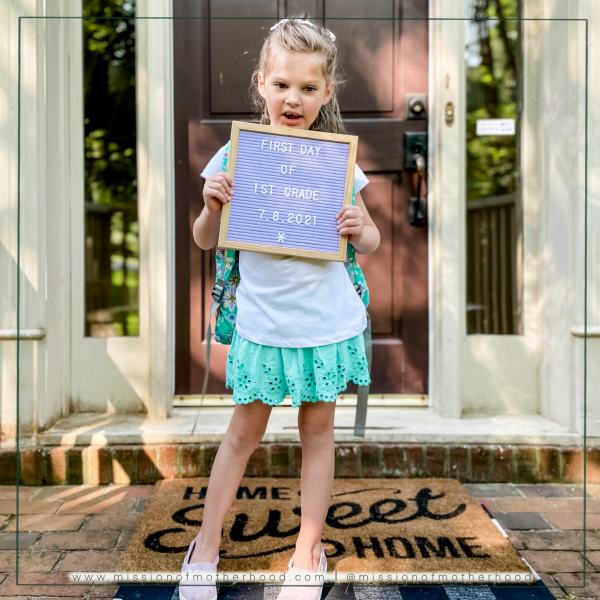 July 8 was her first day, also the day Hurricane Elsa made landfall in NC. Fitting. Y'all, I cried! All day. I bawled like a baby while the whole fam-bam piled into the van to drive her to school in the rain; it perfectly reflected my mood. Claire cried, too, but her tears were more from nerves and not knowing what to expect. Her principal was a saint—I was told I wouldn't be able to walk her in (who doesn't get to take their first kid to their first classroom and take pictures, what in the world? I mean, how would I be able to appropriately document and embarrass her with this milestone?!), but when we arrived soaking wet from tears and rain, she let us in with a hug and pointed us to her classroom. (She started school on a Thursday but we didn't try the bus til Monday—whew, one thing at a time, this mama can't handle it all at once!) I cried when I said goodbye, I cried all day! I cried when I didn't get updates or pictures from the school or her teachers even though they all said "send us a message, we'll let you know how she's doing right away!" I cried at how eerily quiet it was at home. I cried about Nora missing her best playmate. I cried because everyone kept telling me she'd be fine, or she was going to thrive—and in my sadness I felt like they were saying she wasn't already thriving. I cried so much!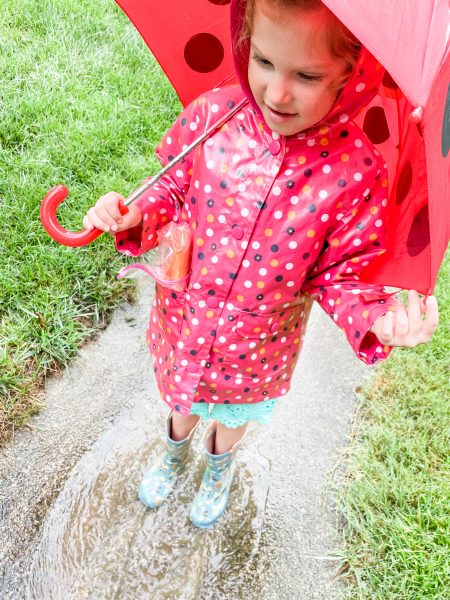 Family, friends, and everyone in between checked in on me and prayed for me. Afternoon dismissal could not come fast enough! I moped and wallowed all day, but eventually it was time for carpool pickup, tsunami and all. I cried when I picked her up, and she walked in, grabbed a book, and fit right back in like she'd never left. I wanted to hold her all afternoon, but she wasn't interested. She was pensive and quiet as she processed her first day (and the first time she's really been away for that long)!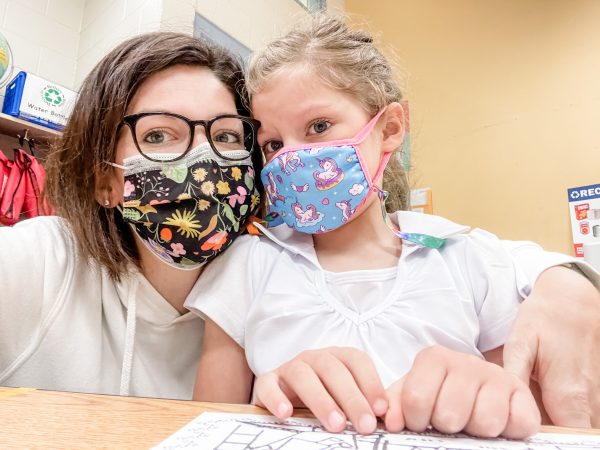 Confession time: I didn't like it. I still don't like it. It's been a week and a half now, and I.don't.like.it! I don't like that she's gone all day. I don't like that my schedule is dictated by the school time. I don't like that her homework takes an hour a night. I don't like that I have to trust that her bus driver will get her to and from school safely. I don't like that I have to send her with a heavy backpack, I don't like that I don't get a say in what and how she is learning. I don't like that I can't teach her the way she learns, but instead she has to learn the way the school is teaching it. Newsflash: Surrendering control is hard for me.
In my lament and struggle, I sought out help and resources, again. I re-read chapter 17 in Risen Motherhood on the gospel and our schooling choices, and I re-read the county's first grade learning targets. I reminded myself of the many weekly therapies for the foreseeable future for our youngest, and I reminded myself how important this time with our middle daughter will be (umm, pause: can we talk about how she's now, suddenly, before my very eyes, considered a pre-kindergartener? What the what?) Ultimately I begged friends for prayer, hoping that by knowing they were taking my tumultuous feelings to the feet of Jesus, I could release some of my emotional burden and begin to feel at peace. (Am I a tad dramatic? Never.) I cried because it suddenly felt like such a huge loss; well-meaning but misunderstood comments poured in and I felt like I had to justify to people why I was "not able to homeschool anymore." On a deep internal level, I felt like a failure, even though I know that the truth is this isn't set in stone.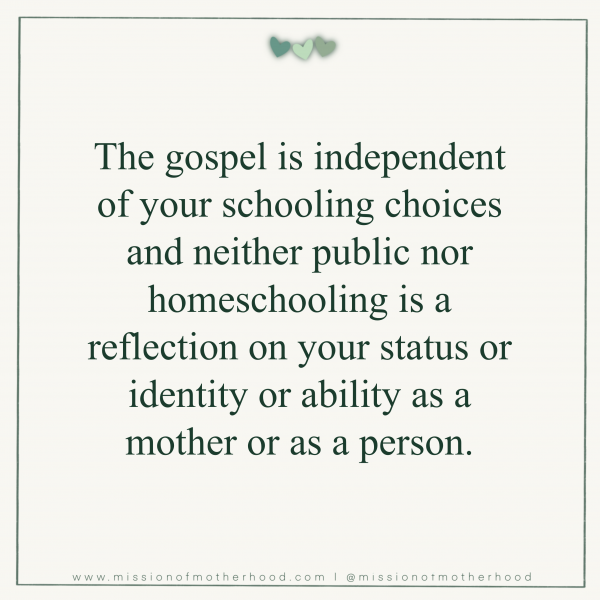 My dear friend sent me these wise words:
"The gospel is independent of your schooling choices and neither public nor homeschooling is a reflection on your status or identity or ability as a mother or as a person. It's okay if they grow up too fast. Growing up is the goal anyway. Celebrate it when you can! Claire will have many positive experiences emotionally and socially and physically at school. She will have an opportunity to engage with those outside the Christian faith and be a witness for Christ. She will make poor choices and others will sin against her, but let's face it, that happens at home too. I've sent my husband off to work with no guarantee that he would come home, so I can empathize to the highest degree. Whatever happens, your God is big enough and wise enough and good enough and loving enough to walk you through it. He can even deal with it if you are mad at Him and don't like the choices that He makes. You'll have a lot less control over lots and lots of things sending Claire to school. You have an opportunity to show her that you trust God and know that you could never measure up to Him as it pertains to loving her, protecting her and parenting her. Keep the lines of communication as open as you can. When you need help, ask for it. You are not parenting solo, even in the moments when it feels like it. PS—She is 1/3 of the way to the age of maturity. Time is going fast, as you mentioned. You are answerable to God in how you conduct yourself as her mother. You are not responsible for the outcomes. (You don't answer to God or anyone else on that count.) Being responsible for what you do, is a big undertaking, especially when you are grading/judging/critiquing yourself at every opportunity. Consider that maybe the only score is how Godward you are pointed. The rest flows out of that to the degree that God allows and enables."

—a text message from my friend
Did that message encourage you like it did for me!? I keep coming back to her words when I feel the weight and frustration of this school transition. The year ahead feels long and overwhelming right now, much like the year behind us felt unending and weary. Breaking things into manageable chunks is how I cope, so I'm telling myself I just have to make it through 7 more weeks til we track out! The rest is Future Caitlin's problem. Each year of parenthood brings new challenges, and even when the days feel long, I know the years will feel short in hindsight. If I'm fretting every step of the way I can't properly help Claire process her feelings and emotions! (And, as she is undoubtedly her mother's daughter, she has LOTS of feelings). I have to remind myself to hold all things loosely, because ultimately none of it is up to me, anyway.
What gospel messages have your schooling choices taught you? What lessons have you learned about yourself or your child in whatever choices you've made regarding school? How did you decide which school(ing) option was right for you each year, for each kid? Share in the comments, because this mama is in her feels and needs all the encouragement she can get (and not because she's afraid her kid won't be fine—we know she'll be fine, that's why we sent her—it's me who is not fine!)