November was a busy month of travel for us. My husband was out of town for work for almost a week, and then immediately after he returned, I traveled by plane across the country to visit my sister who I hadn't seen in almost 2 years. After we returned from that flight, we all packed in the car and traveled by car 9 hours to PA for Thanksgiving. In hindsight, busy doesn't even seem to be the right word for all that traveling madness… I'm glad I didn't have to do all that traveling alone with two kids!
Before I had Nora, I traveled alone with Claire quite a bit. I mostly flew, and each time I got better at it. I used what I learned from traveling alone with 1 to hone in on what I would need traveling with two kids, and that became my starting point.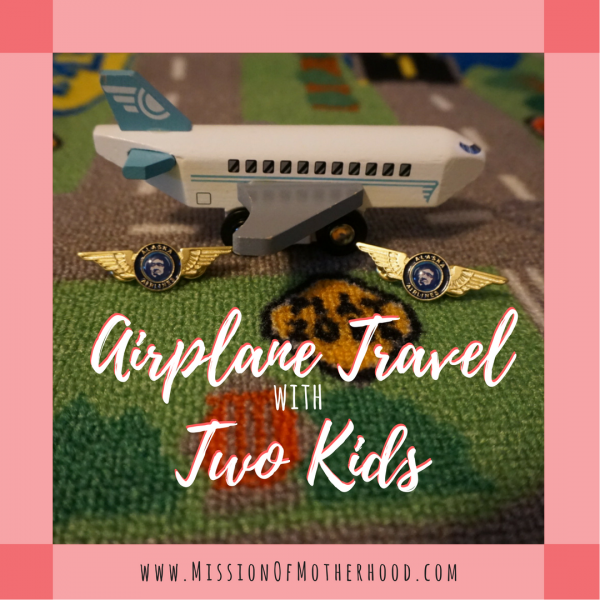 Thankfully, I had my mom with me on my cross country flight this time. An extra set of (adult) hands is obviously ideal but here's what I worked for me regardless.
Check with the Airline! I've flown United, Southwest, American, Lufthansa, and Alaska Airlines. The TSA rules (in the USA) are the same regardless of airline, and it's my understanding that children under 2 all fly free on US domestic flights (as a lap child). They also don't NEED a car seat, but if you are buying a seat for your kid, you may decide you want to bring one. Regardless, call ahead. I think you'll find that most airlines don't consider child items to be part of your checked bag allotment (car seats, strollers, etc). Each time I've flown with kiddos, I've brought a copy of their birth certificate or immunization record, but within the last year I've been told at checkin or security that no ID is required when traveling with a minor child under 14. However, I like to play it safe, and in line at security WITHOUT ID is not the time to find out you should've brought it!
Babywearing. If you are new to this, and if I could only give you ONE piece of parenting advice (for traveling or otherwise), it would be to master the art of babywearing. There are so many types of carriers out there, but my two current favorites are a Tula soft-structured carrier and a Sollybaby wrap. I've had a babyBjorn in the past as well as a Moby wrap, but babywearing is something that is very personal, and not every carrier works for every person. I highly recommend finding a local chapter of a Babywearing group near you (you can also search on Facebook for the nearest group) where you can learn more in person, try on different carriers, get your babywearing questions answered, troubleshoot, and even rent a new carrier each month if you're a member. When I traveled in November with both kiddos, even though I had my mom with me, I tried to see how much I could do alone with two kids, knowing that 1) I could share my experience with you all, and 2) I might not have her with me the next time I needed to fly with both kids. I wore the infant (then 4 mos old) on my front in the Solly Wrap, and the Toddler (2 1/2) on my back in the Tula carrier. It was EXTREMELY ergonomic, I could bend over, maneuver out of my seat, and move with ease. My back didn't hurt, and best of all I was carrying two kids but had BOTH HANDS FREE. This made things like check-in, security, handles, and railings all extremely easy. (You don't need to take the babies off or out of the carriers to go through security! #win). Try doing all that stuff with one kid in each arm–no, thanks.
UPDATE: I got a Toddler Tula carrier for Christmas so now I can wear my toddler in that and the baby in the other Tula. Soft-structured buckle carriers are the EASIEST for me, especially with two kids.
ANOTHER UPDATE: with three kids now, baby wearing is absolutely essential for survival, travel or not. My newest love is a good ring sling!
Check as much as possible. Seriously, carryons are a burden and a hassle, hands-free or not. I learned the hard way when I first traveled with Claire. She was 7 weeks old, and I brought her car seat, the stroller attachment, my suitcase, and her diaper bag. I was able to gate check the car seat, stroller, and suitcase (as I said, baby items did not count in our checked bag allotment, #win), but in order to get a 7-week old on the plane while bagging and tagging all my stuff at the end of the jet bridge, I had to either have help (I was traveling alone) or I had to wrap her up in the carrier (which still required lots of bending over to pack up my stuff even after I wrapped her to me). I learned that lesson real quick so on the way home, I checked all that mess through to my final destination. It made the on/off SO MUCH EASIER. Even this last time around traveling with a 2 1/2 year old and a 4 month old, I packed as light as possible. I had one diaper bag with the essentials (including a change of clothes for all 3 of us, diapers, a pull-up, and some snacks), one small backpack for the tot (which included her tablet for me to deploy as a last resort, more snacks, and some LIGHTWEIGHT dollar store games and sticker books that were new to her. Light is key, since I had to carry it all. I also had her essentials in there like a paci, blanket, and stuffed animal: a 5-hour nonstop flight during nap time would have seemed impossibly daunting without these essentials). My mom had her own small carryon, which contained her travel essentials and snacks, but in which she could also stash my toddler's bag if needed. The beauty of traveling this light is that when it's time to get on/off the plane you can do it. You don't have to wait and hold up the line, you don't have to try to find room to bend over, you don't have to try to manage kids and gather as much stuff. God forbid if you're running behind and need to make a close connection (or, in our case, get to the airport 2 hours early only to STAND in line at security for over an hour, and have to RUN to the terminal train and then to the gate to barely make your flight!), you need the simplicity and ease of making a break for it with as little baggage as possible. Pick the rest up at bag claim! When I say pack light, I mean pack light: no strollers, no extra bottles (if you're breastfeeding you don't need them!), nothing but the essentials. Pushing a stroller might seem convenient until you get to bag claim and have to pick up your suitcase and the car seat. How are you gonna finagle all that one-handed? Read: you're not. Learn from my mistakes. Pack. Light. You can check your stroller and pick it up later.
UPDATE: You can get a bag like these for your car seat or stroller or anything else you're checking, or you can buy one from your airline. I think my blue one from Southwest was about $15, and I've used it on multiple airlines. Mine folds into itself into a small zipper bag when not in use. If you don't have a bag, most of the agents will tie your car seat up in a giant clear bag. If they don't, you can ask them to! 
Rent a SmarteCarte. What are they, like $5/each now? Get one anyway. There is NO way I would've been able to manage 2 kids (even in their carriers), my diaper bag, my suitcase (let alone mine + my mom's), and 2 car seats without this cart. Its basically a stroller for your bags, and even though my mom was with me, it was worth every penny. We didn't even use it to go very far; we rented one at bag claim, picked up the suitcases (1 for each adult), 2 car seats, and took it to the curb to get on the bus to the rental car facility. We opted NOT to bring a stroller on this trip knowing that realistically anywhere we went with 2 kids was going to require a car, thus no need for a stroller, and if I had 1 or 2 kids who couldn't walk and needed to be carried, I would just wear them anyway. Once, I got lucky with a super helpful Skycap, but I don't carry cash so I felt like an idiot for not being able to tip him when he helped me load all my bags into the car at the curb. Smartecartes are smart for a reason. Do it.
Checkin Online. If you can't check in online, try the kiosk at the airport. I'm not sure if everyone knows this is a thing, but do it. If you can't do it online, call. This last trip, for whatever reason, I couldn't check in online before our travel started (I think because I had 2 reservations: one for me + lap infant [did you know that in the US, children under 2 fly free on your lap? 1 lap child per adult] + toddler, one for my mom). Instead of calling, we arrived at the airport 2 hours before our flight on the first weekend of the holiday season: the Sunday before Thanksgiving. Heavens to Betsy. We spent 45+ mins in line trying to check our bags (this was the return flight home!), another hour in security, and ended up RUNNING (while wearing 2 babies as my mom juggled the diaper bag and her carry on and our jackets) to the train to our terminal and then from the train to our gate. We were literally the last ones on board. Had I known a simple phone call or kiosk attempt would've saved me from nearly missing our flight, I would've done it. I had run into the "unable to check in online and print boarding passes" snafu before when traveling with a lap child, so I didn't think anything of it, and we just hopped right in line. Good grief. I feel like such an idiot now for not trying a kiosk RIGHT THERE once before waiting in that hateful line at 6:30am. Please, learn from my mistakes.
Offline videos. This last trip we flew Alaska Airlines, and honestly it was one of the most pleasant travel experiences I've ever had (aside from the security wait, which I think was Seattle's fault, not Alaska Airlines' fault). They had FREE wifi onboard, which was amazing. Still, I didn't know this was a perk, and videos work extremely well for entertaining toddlers (say what you will about screen time, but desperate times call for desperate measures). I saved several age-appropriate and pre-vetted videos for her on the tablet for offline viewing so that I could put it in airplane mode and she could watch them without wifi. We ended up getting super lucky with the wifi, so she could use the tablet while I used my phone, but I was so glad to be prepared!
Nurse. This is another plug for breastfeeding: I had everything the baby needed. I didn't have to worry about feeding schedules, pumping, bottles, pressure change (which can cause milk to siphon out of bottles/cups, collapse nipples, or break certain bottles/cups), temperature, time, any of that. I nursed her when she wanted to nurse, and that was that. I did bring my manual hand pump just in case (if you've ever flown while lactating, you'll know that the pressure change can actually make you feel engorged, and sometimes the vibration/white noise of the plane can actually make the baby sleep through a feeding), but this time I didn't need to use it. It was a long enough flight that she woke up to nurse. Sometimes young babies can get uncomfortable during takeoff/landing because they don't yet know how to equalize the pressure in their ears (or so I've heard) but this has never been an issue with either of mine. When I first traveled alone as a mom, someone said "just nurse at takeoff and landing, and they'll be fine" but Claire would be asleep by then and I'd freak out! Trust me: if baby is uncomfortable in the ears and needs to nurse, you'll know. If you're uncomfortable, that's what the manual pump is for. I've never had any issues with pumping or nursing on a plane in all the times I've done it.
If you're not breastfeeding, baby formula bypasses the 3-1-1 rule, but just know that pre-mixed bottles can spill as the pressure changes, so be careful! Flight attendants can sometimes refrigerate or heat up bottles for you, too!
Rental Car Drop Off. Did you know this was a thing? Ordinarily I have family meet us at the airport, we plop the car seats into the car, and off we go. Sometimes, we have to rent a car. So there's the whole shuttle to the rental place conundrum. Well, this last time on the way home from Seattle, we got to the rental car return at the airport, turned in the paperwork, and signed the receipt. Then, the lady actually DROVE US TO THE AIRPORT DEPARTURE CURB! We didn't have to get out of the car except to switch drivers (once we signed off it was "returned" so one of the staff had to drive). This saved us easily 20 minutes of loading-unloading-loading-unloading between the rental car and shuttles. It was such a dream. If you're ever in this situation, ask about it. Apparently more rental companies do it, especially when they see little kids and car seats!
Ask for Goodies. If this is your kid's first time traveling, no matter how young, ask the flight attendant for any goodies! When I first flew with Claire, she got a small certificate signed by the crew, including the captain. The second or third trip, she got a plastic airplane pin. Each airline is different, and they're all fun! From Alaska Airlines, both girls got a metal keepsake set of wings! I like to keep these things in their jewelry box or baby books when applicable for looking back on later as memorable occasions and special "firsts."
Have you ever traveled on an airplane with little kids? What are your tips, tricks, and recommendations? I'm sure this isn't our first flight with more than one kid, so I need to know what else works for y'all! Comment below.