Some summer days require inside activities, whether it's rain, heat or just a necessary rest day, it's nice to have some things on hand to make the days at home just as special as the days on the go.  This list will certainly not disappoint, starting with breakfast.
This post contains affiliate links. You can read more about that here.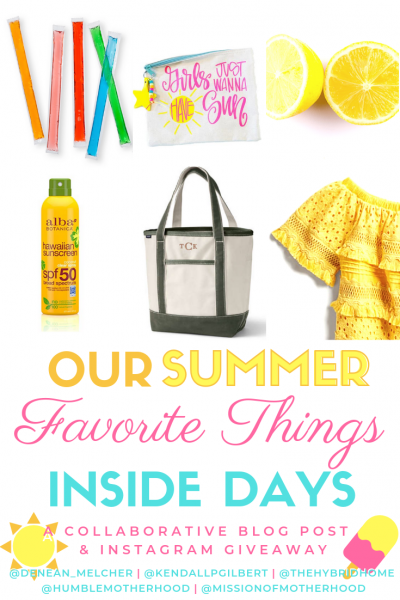 We are a big Disney-loving family. When you can't be in the parks, the next best thing is to bring the parks home. What fun for Disney fans to wake up to Mickey Mouse waffles! I have two high schoolers, and let's be real, breakfast isn't a top priority for them. I recently found these Mickey Waffles in Target and can't wait to surprise the girls with a fun summer breakfast. Add some fresh-picked strawberries and whipped cream and summer will start off right guaranteed! –Denean, www.deneanmelcher.com
Another fun idea to keep little (and big) people happy and hands busy, is homemade play-dough. Here's a great recipe:
Ingredients:
2 Cups White Flour
¾ Cup Iodized Salt
3 Tbs. Cream of Tartar
1 ½ Tbs. Vegetable Oil
2 Cups Boiling Water  
Optional: a few drops of food coloring
Steps:
Mix dry ingredients in a medium bowl
Carefully add oil and hot water
Stir together until blended
Knead dough, and add more flour until you reach your desired consistency. –Lily, www.thehybridhome.net
Bringing the outside in is one of my absolute favorite things and one way I do that is houseplants! This isn't necessarily summer-specific, but if you're looking for some easy or very low-maintenance plants then ZZ plants, Snake plants and pathos should be your go-tos. For my outdoor garden area, I am loving Salvia bushes. They are stunning, hardy, and attract pollinators! –Katie, www.humblemotherhood.com
Sometimes life hands you lemons…in the form of rain in summer. And then you need a backup indoor plan. And let's face it, keeping three teen/tweens occupied all summer can be trying. This is one of our favorite games to play together: Trivial Pursuit – Family Edition. I love that there are questions for kids and adults so we can keep a level playing field. –Denean, www.deneanmelcher.com
Another fun activity for older children on inside days are Fuse Beads. This kit will bring back all sorts of summer fun memories like crafting at camp with your BFF, LYLAS, forever and always! These kits allow kids (and adults) to craft little figures, or to make keychains or gifts for others. They are so much fun and easy to follow a pattern or to be creative and make something completely original. –Lily, www.thehybridhome.net
Finally, this book is a great resource for summer prep and activities: "For the Children's Sake"  by Susan Macaulay. I "homeschool" Luke right now using the Charlotte Mason method and this book has been so helpful! She doesn't recommend formal lessons until around 6 years old so we're just doing a very gentle introduction of her methods; mainly focusing on things like habits, nature study, unstructured play time, and digging deeper into learning about things as Luke directs. I've also started reading Charlotte Mason's volumes as well, but Susan Macaulay has broken it down into a bit more of a bite-size book for a busy mama like me! –Katie, www.humblemotherhood.com
Before You Go!
You may remember that I previously mentioned we were collaborating on a series of posts across 5 days, so here's where you can find the rest of Our Summer Favorites. Feel free to leave a comment and let us know which things you would add to each of these summer favorites!
In the Backyard
At the Water
For the Mamas
Don't forget to head over to Instagram to be entered in our giveaway loop: a $30 gift certificate to the ice cream provider of your choice (Rita's or Coldstone). It starts Saturday June 8, so don't miss it!