BREAKING DOWN A COMMON BARRIER FOR YOUNG FAMILIES GETTING INVOLVED IN CHURCH MINISTRY PROGRAMS
As a family with young kids, I can attest to the importance of joining a small group at church. But the challenge of finding childcare can make it seem like it's not worth the effort!
I've touched on our lack of childcare before — we live in NC, and almost all of our family is in NY or PA, so we don't have a default grandparent to help us out. We've had to modify our plans, bring our kids along, or borrow childcare from friends at church.
To say it has been "challenging" finding childcare is merely the tip of the iceberg for us. In this post I'm going to be discussing:
How childcare is a "barrier" to entry for some
Challenges we face when trying to find childcare
FAQ and creative solutions for childcare during church events
How we requested caregivers for our small groups ministry to try and build a database of names
A sample online request form we used to help parse through who needed childcare 
Interview questions for vetting volunteers/caregivers interested in joining the database
Next steps and what we've been able to do that's worked for our small group and my neighborhood Bible study.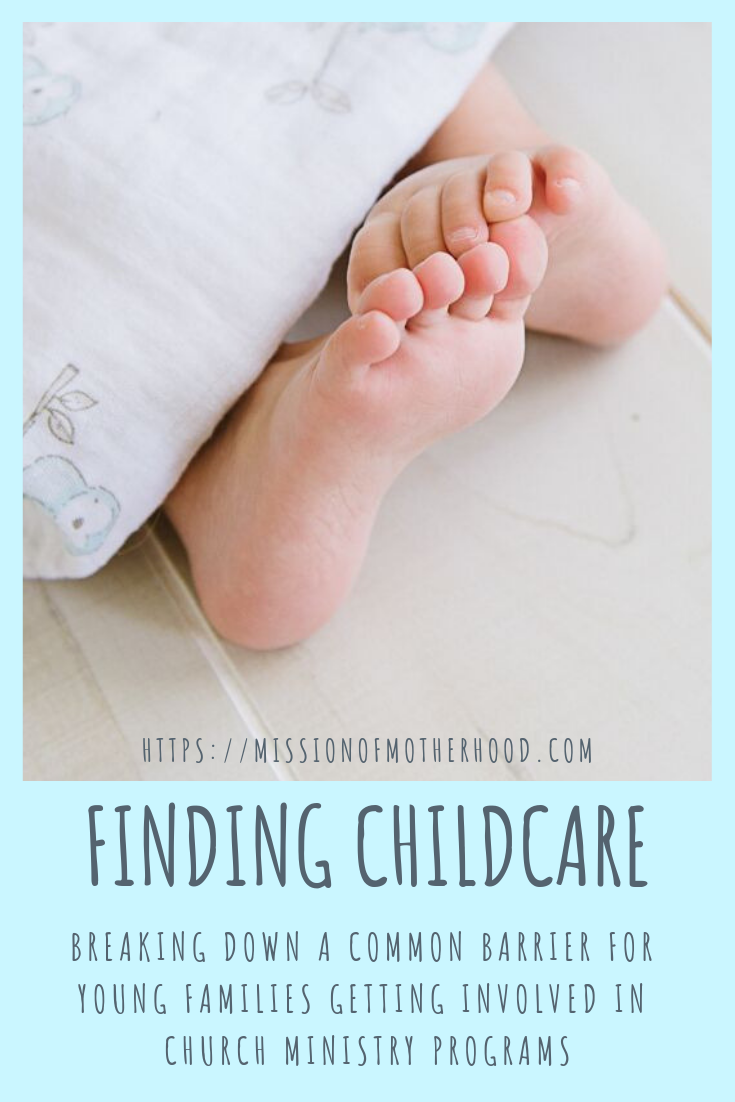 About 2 years ago, I realized that "no childcare" as a reason for not being involved in church activities had moved from a reality to an excuse. I was challenged to think outside the box to solve our problem, and in the meantime I realized I was not the only one who faced this issue.
Challenges
When I say it's challenging, I mean:
baby will not take a bottle and/or nurses to sleep (and the event I'm interested in falls at bedtime)
being away from a nursing baby requires time/effort to pump (and not all events are conducive to pumping moms)
children have food allergies (making trust harder, or making the risk dangerous to the child)
events begin around bedtime, requiring someone else to be out late in order to be with our child(ren)
people who are able or willing to babysit have their own kids (often taking time away from their own families)
the compensation for time and work goes up when you have multiple kids (adding to the financial implications of a dinner out)
it is hard to mentally get to a place where you want to pay someone to sit on your couch while your kids sleep
the good people have busy schedules and are in high demand
not all events are planned months in advance, and securing a babysitter on short notice is tough
The list goes on. If you have any kids, you're probably with me on at least one of these. Since I realized I wasn't the only one in this predicament at my church, I met with one of the pastors to try and find a solution to this problem. My desire is to compile a list or "database" of some sort, so that people who want to get involved at church but don't have childcare can find ways to get involved.
All-Call
I put out the call to our church Facebook group, our women's Facebook group, and I emailed all small group leaders with this all-hands-on-deck call: please help me remove "no childcare" as a barrier to entry for members and attenders (new and old) getting involved in church events and small groups. If YOU, your child, your parent, your neighbor, your spouse, your friend, or someone else you know is AVAILABLE TO PROVIDE CHILDCARE at any point during the week, please email me at ______ so that I can start the interview/vetting process.
We've had no luck yet, but I'm excited about the potential. This database/resource is mutually beneficial! Just think: when people have childcare they trust, they can be involved in the life of the church and the ministries we provide. It can even be a service opportunity: one group/pair can provide childcare one night and receive childcare another night. Paid, unpaid, volunteer: I welcome all interest levels! 
Childcare FAQ
We posted the following on the groups webpage for our church website. The idea was for people who wanted to join a group to think creatively and solve the problem collectively: strength in numbers! Here are some of the frequently asked questions regarding the barriers to group-life associated with (lack of) childcare).
I don't have childcare, and the group I want to join doesn't provide it.
Across our many diverse small groups, folks have come up with a number of creative solutions to this problem.
Contact the group leader(s). You never know what creative solutions they may have come up with!
Hire a sitter for the group to come to the host's house. Every parenting team can chip in to cover the cost per child.
Have a trusted family member watch the children.
Hire a sitter to stay at home with children on group night.
Alternate hosting each week, and have someone sign up for childcare (an older child, a neighbor, a friend).
Bring the children (this works well with school-age children) to model group fellowship for them. When adult time begins, have the children split off for their own fellowship time.
Trade off childcare with friends from another group that meets a different night of the week. This is a great way to share the load with one another.
Ask a trusted teen who needs volunteer hours (National Honor Society, childcare experience, or other volunteer credit hours).
Contact other local churches, ministries (such as BSF, YoungLife, Cru, MOPS, or other bible studies), and/or seminaries (Southeastern Baptist Theological Seminary). Many students are looking for extra cash and have weeknight availability.
Ask your friends, neighbors, and volunteers at church. You never know until you ask! If they can't help, perhaps they know of someone who can. Building these relationships and connections only helps grow our church family and expand our influence.
I'm new to the area and/or we don't have family nearby to help. How can I find someone I trust to be a sitter for our childcare needs?
Contact the group you're interested in joining (link to a list of open groups) and ask the group leader(s) what options they use or recommend for childcare.
Contact us

here

if you're interested in a list of sitters who have been vetted and may be available to come to your house during group time. Rates may vary, and availability may depend on locale and demand.
I am willing to leave my children with a trusted sitter, but I can't afford to pay weekly.
This is a great opportunity for other group members with children to share the burden with one another. Many sitters charge per hour, or per child, so the cost can be divided among parents. Contact us here if you're interested in a list of sitters who may be available.
I have read these FAQ and childcare is still a hurdle for me getting into group life at our church.
We want to help! Contact us here.
Request Form
If someone clicked the link because they felt they needed more help, we wanted to lessen the burden on a staff or contact person by having them answer a few questions first. This helps us gather information and pass it along accordingly.
Name: (free form)
Zip Code: (free form)
Number of Children: (free form)
Age Range: (drop down)
0-2 years
3-5 years
6-11 years
12+ years
Multiple (free form)
Group Name (current group, or group you are interested in): (drop down)
List of Open Groups
Other (free form)
Day: (drop down)
Mon
Tue
Wed
Thu
Fri
Sat
Sun
Group Start Time: (drop down)
Morning (8am-12pm)
Afternoon (12pm-4pm)
Evening (4pm-9pm)
Ability to Pay Per Child: (drop down)
Other Families in Group Needing Childcare: (drop down)
Regular Basis, or As Needed: (drop down)
Weekly
Biweekly
Monthly
As Needed
Thank you for your inquiry! Someone will contact you shortly.
If you have any other questions about groups, childcare, or this process, please contact us here (email sent to designated point person).
Interview Questions
When/if someone responds to the all-call saying they are interested in providing childcare or being in the database, we want to have them vetted: interests, rates, and background checks. The next step is a standard issue of questions:
Name:
Age:
Experience:
Interest (small groups only, special church events, ministries, date nights, etc):
Location (where you are available/willing to go):
Preferred methods of contact (please include all that apply):
Rate (please include if this is flat, per child, or per hour, including if you are flexible):
Limit (age range or number of children):
Do you have your own transportation:
Will you be willing to allow us to submit a background check, if we do not already have one on file (ages 16+):
Current small group (name/location), if applicable:
Restrictions (no pets, allergic to dogs, school-age only, etc):
Volunteer hours needed (for unpaid/NHS volunteer credit, etc):
Other (please tell us anything else you think we should know that applies to this position):
What We Do, & Some Next Steps
From here, the goal is to take the information gleaned from the interview questions and place it, along with their contact information and background check information, into a shared spreadsheet. Currently I'm the administrative point person on this, so the "contact us here" requests/emails come to me, but ideally this gets handed off in the future to a staff person who can manage it (along with the logistics of the background check and other volunteer applications that might be on file at church). 
So far, I've had 3 people express interest in being childcare providers, but as of the time of this post, none have responded to my interview questions (we made these as a collective group, so it's not just me being persnickety!) Hopefully this is because this program is in its infancy, and people really ARE finding other creative solutions to the childcare barrier.
For my small group, the solution we've been able to come up with is the 12 year old child of another church member watches our kids for 2 hours in our bonus room while the parents meet downstairs in the living room. Currently our rate is $5/child so that each family has some skin in the game and the burden of hiring the sitter doesn't fall on just us. As our group grows, and so do the children, we will need to reevaluate this rate and plan with the parents of the kids and the sitter (and her parents!) every so often to make sure we are managing expectations and that she is earning a fare wage while still ensuring this plan is not cost-prohibitive for other families. Some of the younger babies sleep in some of our extra pack and plays, so we don't expect those parents to pay for a service they don't need! Our group is also not very consistent about letting us know who is coming until often the last minute, which makes childcare a challenge: we want it to be worth her time, but we also want it to be beneficial to the group. 
For my neighborhood Bible study, we've taken a slightly different approach. Like our church small group, not everyone is a parent needing childcare. But, we've all collectively agreed that having a babysitter benefits everyone, because we can expect a certain amount of uninterrupted adult conversation time. So, once in the beginning of each semester, and once in the middle, we collect a predetermined amount (say $15-20 based on the amount of weeks in the study) from each regular attender. One of the leaders takes on the responsibility of paying the babysitter the same flat rate each week. Of course we never want this cost to be a barrier for the ladies who attend, but since childcare benefits everyone, it's nice to have everyone chip in however they can.
What about you?
Have you experienced this challenge to small group life, Bible study, or other ministry opportunities? What about community opportunities that might not be church-related? How have you solved the problem of childcare if you don't have family nearby? I'd LOVE to know–both for myself, and for others at church–so leave a comment!